VoiceComm is the premier mobile accessory distributor for the North American market, and an iQmetrix's preferred partner in the space. Our diverse, high profile product portfolio coupled with our commitment to serve has allowed us to quickly become the go-to destination for wireless accessories in the market. Established in 2001, VoiceComm is well known for its core services along with innovative and industry-leading programs and value added services. VoiceComm aims to cover customers' every need in this ever-changing industry. With a focus on what's important for wireless retail and related channels, we inspire through customization to develop the programs and resources businesses need to succeed.
Customer Success Stories
Don't just take our word for it, read these shared experiences from our VMI customers!
"VoiceComm's VMI program offers service and tools unique to this industry which provides a level of confidence in the ability to manage our inventory. Order approval tools allows us the flexibility to make changes with full transparency to what and how our stores are being replenished on a weekly basis. VoiceComm's VMI services and tools have saved me several hours each week spent reviewing accessory inventory trends and replenishment. VoiceComm is a true partner who keeps our inventory cost of goods and accessory strategy in mind when replenishing our stores. VoiceComm's VMI tools, flexibility, industry insight communication and proactive engagement is the differentiates VoiceComm's VMI program to other VMI Program services I have had in the past."

Chris James – Director Of Operations, Amcomm Wireless

"VoiceComm's VMI tools and services offered me a peace of mind with the full transparency to replenishment strategy which allowed me to comfortable and ensured i was not relinquishing my control over accessory management."

Kassy Loberger – Supply Chain Manager, Connect Cell
VMI Program Overview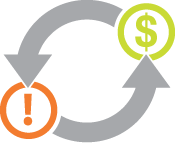 If you aren't a part of our industry-leading VMI program you're missing out. When you enroll you will optimize your inventory management in ways you might not have imagined previously. The benefits? Our VMI program eases inventory fears and frees up time by allowing us to manage your inventory. Our customized system offers transparent sell-through data and flexible level controls to streamline analysis and adjustments, automated replenish and stock-balance processes thoroughly monitored by a designated specialist, and detailed performance reporting to identify problematic SKUs or profitable opportunities.
Our VMI program's benefits translate beyond your backend; it also will enhance your sales and customer experience. Our VMI program allows you to select the right accessories for your store with expert consultation from a dedicated VMI Team. We review your store trends 30/60/90 days to ensure your stores have the right accessories on hand and schedule monthly calls to present crucial sales trends, new device launches, accessory promotions, and offer invaluable market trend analysis on top selling products. Our VMI Program has a human touch which is lacking in the competition; we are there for you every step of the process.
That human touch and availability for our customers also helps to ease any fear and apprehension you may have surrounding any aspect of the program. We're here to guide from experience and support you in order to maximize sales, and that is just what our VMI program accomplishes.
Dashboard: VoiceComm's VMI Enhancement Tool

Our latest enhancement to the VMI program is our exclusive VMI Dashboard. It is an extension of our reporting and our commitment to a better customer experience by allowing users to visualize a deeper, more granular view of their sales data.
This is achieved by combining VoiceComm data and your POS data which streamlines monitoring your accessory trends. VoiceComm's data tags integrate with your POS data to perform robust, actionable reporting by a selected date range:
Overall Sales vs. Purchases Trend Comparison
Compare Sales by Category, Class, or Device vs. Purchases
Demographic Performance by Store, Region, or District
Exclusive Advantages of the Dashboard include:
Inventory Management
Sales Performance
Partnership with VoiceComm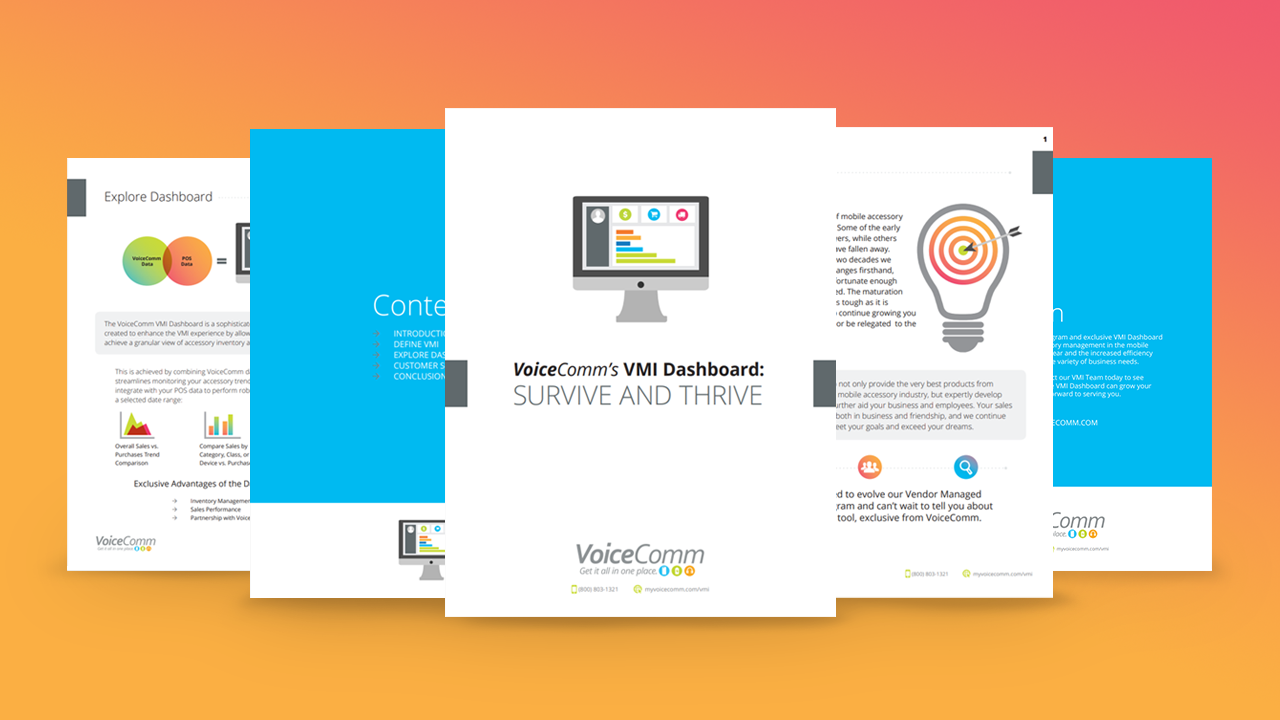 To read about how adopting a VMI program and our Dashboard offer tools to strive and thrive in accessory retail
Download Our Whitepaper
Getting Started
Join VoiceComm today to experience the best in products, programs and support. Remember, we're partnered with a who's who of mobile accessory brands and have curated a product portfolio that represents the most innovative, high-margin options from top-selling brands in the market. Our team works hand-in-hand with our vendors to produce programs and tools that support training, sell-through strategies, and merchandising opportunities to ensure our customers receive best-in-class retail support. Our aim is to combine the reach of a corporation with the personality and care of a small business to deliver service of the highest quality, 24/7. Our commitment to serve has driven us to build a multi-level support system unmatched in the industry.
Visit our website for a full overview of VoiceComm's distribution services.
Our program is designed to eliminate pain and amplify profits. Enroll today to feel the difference. Contact VoiceComm's VMI Team for more information about our program, vmi@myvoicecomm.com, or visit our partner page at VMI Partner Page.